The nose is the most prominent feature of the face and may draw unwanted attention when it is misshapen, or disproportionate in relation to the other facial features. It is quite common for individuals who are dissatisfied with their nose to be dissatisfied with their overall appearance, so many choose to have nose reshaping surgery, also known as rhinoplasty. In Omaha, rhinoplasty is a very common procedure and one that is performed with skill and artistry at Aesthetic Surgical Images.
Request a complimentary cosmetic consultation with one of our board-certified plastic surgeons to learn how rhinoplasty can improve your appearance and self-esteem.
Rhinoplasty: Analyzing A Nose
Rhinoplasty: Surgical Techniques
Rhinoplasty: Recovery Following Surgery
*Each patient is unique and individual results may vary.
Understanding Rhinoplasty
When performed properly by one of our experienced surgeons in Omaha, rhinoplasty can address a full range of cosmetic and/or functional concerns. Specifically, it can:
Refine the tip of the nose and nostrils
Smooth a bump on the bridge of the nose
Straighten a deviated septum to help alleviate breathing problems
Rhinoplasty can be a great way to improve the size and shape of your nose, as well as improve its function. Whether for cosmetic reasons or to help with breathing issues, rhinoplasty has become one of the most common plastic surgery procedures today. Our experienced surgeons understand how important it is to create a natural-looking result while maintaining facial harmony. They also understand that no two noses are alike and take into account individual characteristics such as ethnicity, gender, age, and skin type when performing rhinoplasty in Omaha.
The demand for cosmetic surgery, including rhinoplasty, has increased during the pandemic. With more people working from home and having more downtime, many have decided to use this time to pursue cosmetic enhancements. Rhinoplasty, in particular, has seen a surge in demand as wearing masks has made the recovery process more discreet.
Additionally, with the prevalence of video conferencing and virtual communication, individuals may be more self-conscious about their appearance and feel motivated to make changes. The pandemic has also led to a rise in telemedicine consultations and virtual appointments, making it easier for individuals to explore their options and schedule procedures. Overall, the pandemic has brought about a unique set of circumstances that have contributed to the increase in cosmetic surgery, including rhinoplasty.
Best Candidates for a Nose Job
The ideal candidates for a nose job are those who have visible humps, narrow noses, or asymmetrical features on the bridge of the nose. This surgical procedure also benefits individuals of different ethnic backgrounds, such as those with African American, Asian, or Hispanic heritage. Ultimately, anyone considering rhinoplasty should be in good mental and physical health and have realistic expectations about what the surgery can achieve.
Consultation for Rhinoplasty
At Aesthetic Surgical Images, each consultation begins with a clinical analysis to evaluate your facial features and nasal structure. Your surgeon will take the time to understand your desired results and create a personalized solution that enhances your natural beauty. We also use computer imaging to help you visualize, in a realistic way, how rhinoplasty can improve the shape and size of your nose. You can expect an honest evaluation and all of the information you need to make an informed decision.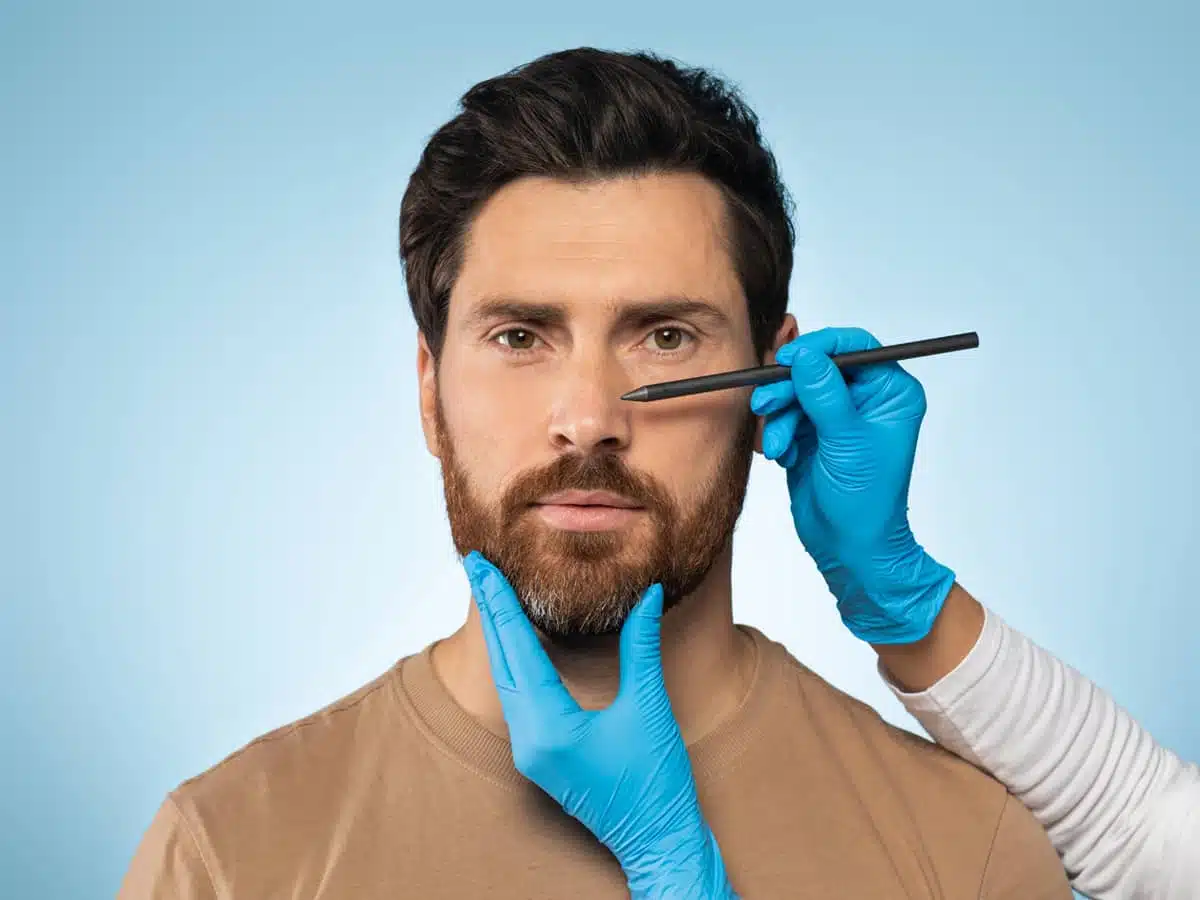 Your Rhinoplasty procedure
Rhinoplasty in Omaha, Nebraska is performed as an outpatient procedure under general anesthesia. Your surgeon may recommend a closed procedure, which places the incision inside the nose, or an open procedure, which places the incision across the narrow strip of tissue that separates the nasal passages. Through these incisions, the cartilage and the bone of the nose can be sculpted into the desired shape. The septum can also be straightened.
To maximize facial rejuvenation, many of our patients schedule complementary procedures such as blepharoplasty to create a brighter, more open eye area or chin and cheek implants for a more balanced look.
Recovery from a Nose Job
Recovering from nose surgery requires that you take it easy for a few weeks. Strenuous activity, such as exercise and heavy lifting, should be avoided while your body is healing. Normal activities can usually be resumed within a couple of weeks. However, it may take up to a couple of months or longer to see the final results of your surgery and the perfect nose you have been dreaming of. After surgery, you may experience swelling and discomfort which can be managed with prescription pain medications authorized by your cosmetic surgeon.
Swelling Following Rhinoplasty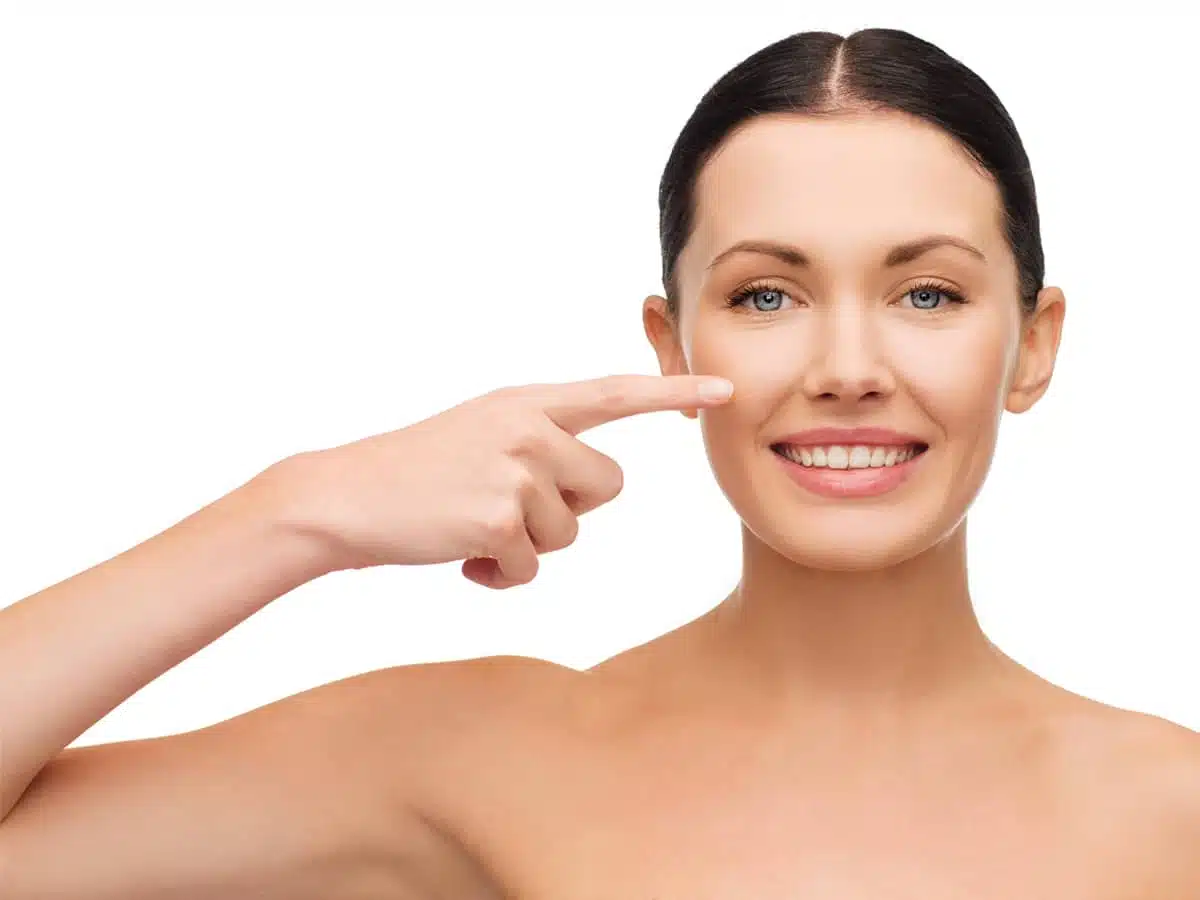 It's not unusual for patients undergoing rhinoplasty to have prolonged swelling. Several factors, including the use of open rhinoplasty, fracture of the nasal bones, the thickness of the nasal skin, and a previous rhinoplasty have been associated with prolonged swelling.
The sense of smell may be temporarily affected following rhinoplasty surgery. However, this usually resolves in a few weeks as the swelling subsides. In very rare cases, it may take longer to recover and require additional surgery.
Most patients will note significant swelling for about two weeks following surgery. After two weeks, most patients are comfortable resuming their normal lives and going out in public.
Swelling will persist in most patients for at least one year following surgery, with the nasal tip being the last site to experience resolution. In the immediate postoperative period, nasal splints, the elevation of the head, and ice can be used to minimize swelling.
Enjoying Your Rhinoplasty Results
Following surgery, a light nasal packing will be placed and usually removed the next day. A splint will be placed on the outside of the nose and removed in one week. Swelling and bruising are common and may last up to 10 days. Three weeks after surgery, however, any residual swelling is usually not noticeable by other people. Although the nose reshapes for up to a year, you will notice an immediate improvement in form and function.
Many people believe that nose reshaping surgery does more to change a person's overall appearance than any other facial surgery. See for yourself the dramatic, yet natural-looking results that are possible with rhinoplasty when you visit ours before & after photo gallery.
Related Articles
"I couldn't have asked for a better experience. I was very weary going into this, afraid after seeing so many episodes of Botched, but I am so glad I did this. Dr. Bruneteau did my rhinoplasty a little over a month ago and I am beyond happy with the results. Before, I hated my profile and was very insecure about the 'hump' on my nose. I no longer have a hump and I love my new nose."
5 Stars
jessssska
Rhinoplasty Faqs
Can I blow my nose after Rhinoplasty?
It's not unusual for patients to have nasal congestion following rhinoplasty. This is often secondary to swelling with crusting and scabbing within the nasal passage. When this occurs, patients have an irresistible urge to blow their noses. We generally recommend that patients avoid blowing their nose for at least two weeks following routine rhinoplasty and four to six weeks following septoplasty. When patients blow their noses in the early postoperative period, they can potentially damage the nasal mucous and cause bleeding. For this reason, we generally recommend nasal saline irrigations in the immediate postoperative period.
Are there changes in Breathing Following Rhinoplasty?
It's not unusual for patients to have difficulty breathing through their nose following surgery. In most cases, this is related to normal post-operative swelling and resolves quickly. In some cases, crusting and scabbing within the nasal passages may also contribute to this problem. The problem is often related to the type of procedure performed. For instance, when septal work or large dorsal humps are removed, this problem seems more likely. In the vast majority of cases, breathing difficulty resolves in two to three weeks as swelling resolves. In a small percentage, swelling may persist for four to six weeks following rhinoplasty. In a small percentage of patients, breathing problems may be permanent and related to structural changes in the nose. When this situation arises, secondary nasal surgery may be necessary.


Can you fix A Broken Nose?
It's not unusual for the nasal cartilage to slowly curve after a nasal fracture. In many cases, the nose may actually be straight after the swelling has resolved. With the passage of time, the cartilage slowly starts to bend and resulting in a curved nasal dorsum. When this situation arises the nose should be critically evaluated. Not only should nasal aesthetics be evaluated, but attention should be given to the nasal airway as well. Under these circumstances, the cartilaginous nasal septum may be deviated as well, with resultant airway obstruction. When a patient has a crooked nose following trauma, the nasal septum and nasal bones are usually both involved. In many cases, patients often develop a dorsal hump as well. Correction of this problem usually requires a rhinoplasty. If nasal airway obstruction is present, a septoplasty may be necessary as well. In patients with post-traumatic nasal deformities with associated functional impairment, consultation with a board-certified surgeon is appropriate. It's never too late to correct post-traumatic nasal deformities especially if they're associated with functional impairment.


Can you fix a bad nose job?
The majority of patients are happy with the results of rhinoplasty surgery, but occasionally we see patients who are unhappy. This can occur for a variety of reasons and may require secondary rhinoplasty for correction. In some cases, it's not possible to accomplish the patient's aesthetic goals on living tissue without damaging the nasal blood supply. In other cases, it may be secondary to poor communication, and finally, in some cases, it may be secondary to unrealistic patient expectations. For these reasons, revision rhinoplasty may be necessary for up to five to ten percent of patients who undergo rhinoplasty. When revision rhinoplasty is undertaken, the best results occur when twelve to eighteen months have been allowed to pass. This allows scar tissue to soften. Furthermore, the nose has reached a stable position and the surgeons won't be trying to hit a moving target. Consulting a board-certified plastic surgeon with experience in revision rhinoplasty is highly recommended. This surgeon should be able to help you formulate an appropriate treatment plan.
Taking the next step
Learn more about rhinoplasty when you read through our list of Frequently Asked Questions. If you don't find what you're looking forward, we're happy to answer any questions or address any concerns. Request a complimentary cosmetic consultation online or call (402) 390-0100 or (800) 331-5001 today.
Why Choose Aesthetic Surgical Images
For almost 20 years, Aesthetic Surgical Images in Omaha has earned a reputation as one of the top plastic surgery practices in the Midwest.
Dr. Edney completed his 5-year residency in general surgery at Creighton University and subsequently received his board certification in general surgery.
Dr. Marie Montag has been in practice since 1997 and is a Board Certified by the American Board of Plastic Surgery.
Dr. Bruneteau completed a fellowship in microvascular surgery at the University of California and a fellowship in craniofacial surgery at Harvard Medical School in Boston; also, is a Board Certified Plastic Surgeon.
Dr. Biggerstaff completed his plastic surgery training at the University of California, Irvine; also, he is Board-Certified Plastic Surgeon.