Are you tired of stubborn arm fat that just won't go away, no matter how much you exercise? Arm liposuction could be the transformative solution you've been searching for. This specialized procedure is designed to redefine your body shape by precisely targeting and eliminating those troublesome fat deposits in your arms. While the surgical aspect is typically straightforward, what comes after—your recovery—is a pivotal component in determining the overall success and longevity of the results. That's why we've created this comprehensive guide. It's packed with practical tips, expert insights, and actionable advice to help you navigate the post-operative recovery landscape. Our aim is to equip you with the knowledge you need to ensure the best possible outcome, making your investment in arm liposuction truly worthwhile.
Setting the Stage: What is Arm Liposuction?
Unlike traditional liposuction, arm liposuction focuses specifically on the upper arms. This cosmetic procedure aims to address common issues such as excess fat and the appearance of batwing-like sagging. If you're considering this procedure, understanding the recovery process is crucial for achieving long-lasting results.
Who is a good candidate?
Not everyone is a candidate for arm liposuction. Candidates for arm liposuction should consult with a qualified and board-certified plastic surgeon. Factors such as overall health, the extent of fat removal, and individual anatomy play a role in determining eligibility. Initial consultations with your surgeon will help assess your suitability for the procedure.
Initial Care and Monitoring After Arm Lipo
After undergoing an arm liposuction procedure, paying close attention to the incision site as part of your post-operative care is crucial. This is a key step in ensuring a smooth recovery and achieving your aesthetic goals.
The area where the incision was made should always be kept smooth and intact, and the sutures used for the incision should be kept clean to avoid any risk of complications. Regularly monitor the site for any signs of infection, such as abnormal swelling, redness, or discharge. These could be indicative of bacterial infections, a potential complication of any invasive procedure.
If you notice any of these signs, it's important to consult your healthcare provider or the team at the plastic surgery facility immediately.
Following these aftercare instructions diligently can help prevent complications, promote proper healing, and contribute to optimal long-term outcomes.
Navigating the First Few Days
The initial days after arm liposuction are crucial for a smooth recovery. Managing swelling and bruising, incorporating light exercises, and paying attention to your body's signals are key components during this phase. Learn how to strike the right balance between rest and gentle movement to support your healing journey.
Week 1 After Arm Lipo: Embracing the New You
The first week after your arm liposuction procedure is crucial to your recovery. During this period, your body begins the healing process and starts adjusting to the changes.
Swelling and Bruising Management
Swelling and bruising are common side effects of arm liposuction. To manage these symptoms, wearing a compression sleeve around your arm for up to 4 weeks is recommended to reduce swelling and bruising, as it supports the healing process by preventing external pressure from affecting the incision site.
Mobility and Gentle Exercises
While it's crucial to rest your arms for the first 4 to 5 days post-surgery to allow for proper healing, incorporating gentle movement can significantly aid in your recovery after arm liposuction. This approach to fitness during the recovery period can help maintain optimal blood circulation, which is essential for the healing process.
Simple exercises such as walking around your home or performing light activities can be beneficial. However, during this time, it's important to avoid strenuous exercise or heavy lifting, including weightlifting or pushups. These heavy exercises can strain the incision site unnecessarily and potentially delay the healing journey.
Weeks 2-4 After Arm Lipo: Recovery in Progress
As your body continues to heal, it's vital to maintain good habits to support your recovery.
Compression Garments: Your New Best Friend
Continuing to wear your compression garment is recommended during this period. This garment not only minimizes swelling but also helps to shape your arms as they heal.
Diet and Hydration: Fuelling Recovery
Your diet plays a pivotal role in your recovery after arm lip surgery. Maintaining a stable weight and eating a well-rounded diet with ample vitamins, proteins, minerals, and antioxidants can bolster your immune system and expedite healing.
Nutritious foods, particularly those high in protein, can aid in tissue repair and regeneration, while vitamins and minerals can boost your body's natural healing mechanisms. Hydration is equally important, as it aids in maintaining skin elasticity and helps to flush out toxins from your body.
Avoid alcohol, as it can increase the risk of fluid retention and interfere with the function of pain medications and antibiotics.
Beyond Month 1 After Arm Lipo: Solidifying Results
Once you've passed the initial recovery phase, it's time to focus on maintaining your results.
Resuming Regular Activities
As your body continues to heal, you can gradually return to your regular activities. Nonetheless, it's important to allow your arm to completely recover before engaging in strenuous exercises like weightlifting or pushups.
Sun Exposure and Scar Care
Protecting your skin from sun exposure and caring for any scars is also important. While scarring from arm liposuction is minimal, proper care can help to further minimize their appearance.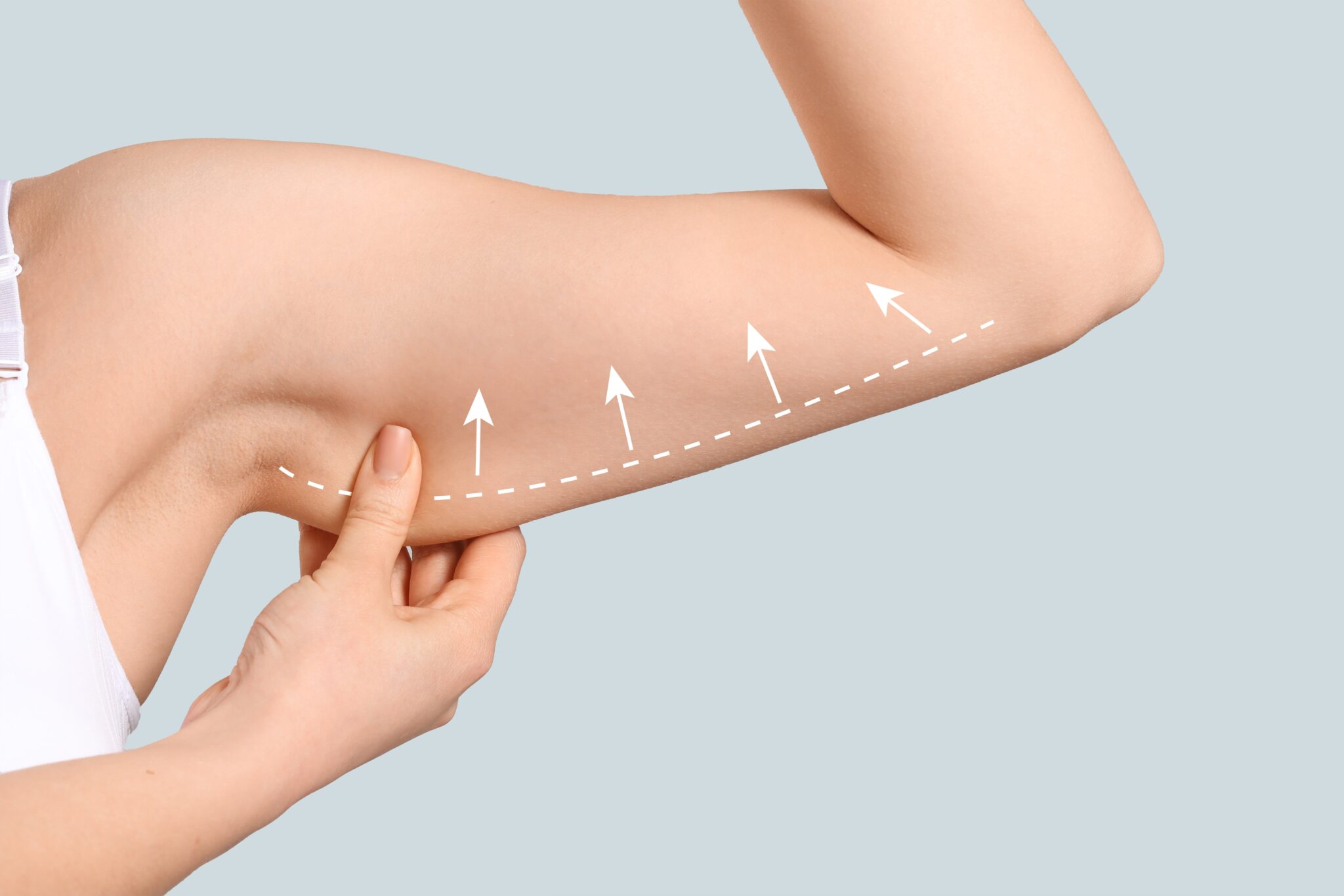 Addressing Common Concerns
Navigating the arm liposuction recovery process comes with questions and concerns. From the timeline for seeing final results to managing post-operative swelling, this section provides answers to frequently asked questions, offering clarity and guidance.
IF YOU HAVE ANY MORE QUESTIONS BOOK A CONSULTATION TODAY
Request a complimentary cosmetic consultation with Aesthetic Surgical Images online or call (402) 390-0100 or (800) 331-5001 to learn how to deal with liposuction recovery time and how to improve your shape and body image.
Arm Lipo Recovery FAQs: Navigating Common Concerns
As you embark on your arm lipo recovery journey, it's natural to have questions and concerns. Here, we will address some frequently asked questions that may help you navigate this process more effectively.
How soon can I see the final results of my arm lipo?
The timeline for seeing the final results of your arm liposuction procedure can vary, but typically, the full effects become visible six months after the surgery. It's important to note that several factors can influence the arm liposuction recovery time. These include your overall health, the extent of fat removal, the liposuction approach used, whether it was a conventional liposuction surgery or a more advanced technique like laser liposuction, and how closely you adhere to your post-operative care instructions.
What's the best way to reduce post-op swelling and discomfort?
Post-operative swelling and discomfort are common after an arm liposuction procedure. Wearing a compression garment, maintaining a healthy diet, staying hydrated, and engaging in gentle exercises can help manage these symptoms. Over-the-counter pain medications may also provide relief, but always consult with your surgeon before starting any new medication.
Are there any specific exercises I should avoid post-surgery?
In the initial stages of recovery, strenuous activities and heavy exercises such as weightlifting or pushups should be avoided. Once your surgeon gives you the all-clear, usually after two to three weeks, you can gradually include toning exercises in your routine.
How do I ensure the longevity of my arm lipo results?
Maintaining your arm lipo results involves a commitment to a healthy lifestyle. Regular exercise, a balanced diet, and proper skin care can help preserve your new arm contour. Additionally, following your surgeon's post-operative care instructions can prevent complications and contribute to a successful recovery.
Can arm liposuction be combined with other procedures, and how does that influence recovery?
Yes, arm liposuction can be combined with other surgical procedures for a more comprehensive approach to body contouring. One popular option is an arm lift, a cosmetic surgery procedure that addresses loose skin in the upper arms. This combination is an attractive option for people who have experienced dramatic weight loss or have a genetic predisposition to excess skin build-up, resulting in a batwing-like appearance.